Supporting underprivileged children through Education, Health Care and the Arts
Who We Are?
Anjali House is an educational center that provides children and young adults with the support they need to break the poverty cycle. Anjali House provides support to 120 underprivileged students from Siem Reap ages 5-20 through education, family support and basic care including access to drinking water and nutritious food. We firmly believe in the value of providing children with the opportunity to access various forms of expression. Whether through art, sport, creative writing, dance or music, we aim to foster each and every child's creativity. This creativity is an important tool to encourage social interaction and educational development.
What makes Anjali House unique?
Anjali House is a locally run organization. The NGO has been implementing educational activities for the past 10 years. Its Director is Cambodian as well as are all the teachers and the social worker. Anjali House is reliable and transparent, and runs an independent yearly audit of its finances Anjali House's ultimate goal is to see its students develop into healthy, well-adjusted young adults, equipped with the skills and support they need to enter the workforce and be successful in their future endeavors.
What We Do
We believe that no child should be forced to beg or work. We believe that they have the right to enjoy their childhood – to learn, play, make friends and grow in a safe and happy environment. These are basic rights that no child should be denied." At Anjali House we provide each child with free healthcare, food, clean drinking water and education.
Donate And Be Part Of The Change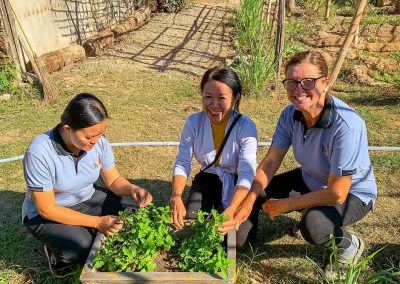 From a small beginning…  In 2014, Anjali outgrew its old space and moved to a new location to accommodate more ... Read more