Begin life
Anjali House began life as a project of the Angkor Photo Association and Angkor Photography Festival Association in Cambodia. They wanted to produce a regional photo festival but, in an area of so much deprivation, they also wanted to include some of the people who live in this remarkable part of the world.
2005

Angkor Photography Association ties up with Life and Hope Association, an organisation set up by the monks of Wat Damnak temple, to provide equal access to education for the underprivileged.
2006

One year incubator program to teach 30 children English and Khmer is set up
2006

Anjali House begins with a one-off dance troupe, lead by Sangeeta Isvaran, and a photography workshop initiated by Magnum photographer Antoine d'Agata.
2006

Gets its name from the sanskrit word "anjali" which translates to "offerings" in English. Anjali House is a house of offerings for local children in need.
2007

Anjali House officially begins classes with 20 students, 2 teachers, 1 cook, 1 driver and 1 social worker with classes in Khmer, English and Photography
2007

The total number of students rescued from the streets reaches 80 student.
2008

The Young Adult Program is established to educate and prepare young adults to integrate successfully into their future jobs and communities.
2010

The scholarship programme begins by enabling the first two students to attend the Nursing course at International University, Phnom Penh.
2013

Anjali House moves to a ________ property with full fledged Education, Basic Care and Young Adult programs.
2014

The Social Work department is set up to provide Family Support and Social Services
2016

First student of Anjali House to attend a university abroad.
2017

First impact study conducted to asses the health of Anjali House programs.
2018

Strategic three-year planning process begins which will help direct the future of Anjali House towards 2020.
2018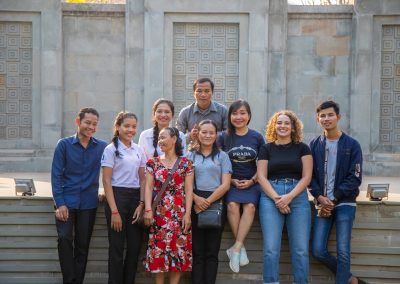 At Anjali, we support women and girls to reach their goals. One way we do this is through hiring and training women Read more