The link with the families and the local Khmer school is crucial to our work. Our social workers work closely with the families and support them by encouraging knowledge about parenting skills, healthcare, domestic violence, family budgeting and job search assistance through home visits and workshops.
The Young Adult Program (YAP) strives to give young adults aged 13-20 the skills needed to be independent adults successful in their future careers as well as productive members of Cambodian society. To prepare young adults for professional life and for them to develop to their full potential, YAP offers a range of activities such as reinforcement of English skills, public school tutoring, IT classes, multidisciplinary workshops, and community service programs.
Main Highlights of the Young Adult Program
The main focus of the Young Adult Program in 2018 was aimed at transferring the knowledge acquired at Anjali House to community-related projects through internal practices and external partnerships.
Our garden functions as a social enterprise that is sustainable, beneficial for the community at large, and integrated with the education programme. This in turn helps supplement our major food expense ensuring two healthy meals for every child at Anjali House. Only organic farming is employed ensuring that the food provided is both nutritious and safe for the environment. The students undertake various tasks in the garden helping them learn how to work as a team and an opportunity to understand responsibility in a real-life scenario.
At the end of 2018, our Young Adult Coordinator joined the committee of the Eco Warriors, who strive for a green, eco-friendly, and non-plastic community. By collaborating with the Eco Warriors this year, we join them in their mission to educate the community about preventing plastic pollution through interaction with the commune chief and the residents of the village.
Our partnership with Eco Warriors strengthens our already strong network of partnerships for community outreach. In the past we have partnered with organizations like PEPY and EGBOK for various community related initiatives and we plan to expand this network in 2019 for both knowledge enhancement and outreach activities.
For the duration of the past two years, our young adults have been participating in the English Access Microscholarship Program, sponsored by the United States Department of State (DoS). During this program, the students took IT classes focused on improving their computer skills, such as typing, Microsoft Office and Internet search. The students also worked on their English language skills through speaking, listening and writing. After working incredibly hard, the students received their certificates from the DoS in December 2018.

Young Adults spent a total of 225 hours in community service activities.

5 young adult students over the age of 18 have part-time jobs in hospitality and tourism
7 students received scholarships with 6 pursuing university education and 1 attending ACE for advanced English lessons.
students received meal stipends.
Student is attending vocational training at 'world youth tourism & hospitality school'.
Young adults received the us embassy access program certification.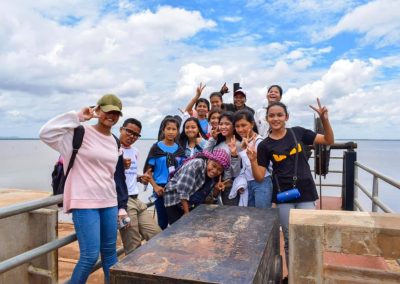 Our Future Leaders Program focuses on volunteering and internships in addition to skillbuilding. We encourage our ... Read more
Donate And Be Part Of The Change