The link with the families and the local Khmer school is crucial to our work. Our social workers work closely with the families and support them by encouraging knowledge about parenting skills, healthcare, domestic violence, family budgeting and job search assistance through home visits and workshops.
Our students at Anjali House are from the lowest income sector in the two communities in which we work. Many of their parents are under-employed or unable to work. Even with one working parent, there are generally many additional dependents including younger children and older relatives. According to our impact assessment report (end of 2017), on average, families at Anjali House earn $165 per month to support a family of five. With this income, they cannot meet the cost of basic needs including nutritious food, access to education, and hygiene supplies. At Anjali House we understand that to assist and nurture the children who attend our centre, we must also try to address some of the systemic problems that affect their parents and families by providing personal advice, workshops, and emergency access to finance and healthcare, if necessary.
Main Highlights of the Family Support Program
In 2018, we continued our efforts to integrate the parents into our programs through workshops and one-on-one discussions. By offering access to these interventions, we try to address background problems such as domestic violence and substance abuse. We choose to conduct workshops instead of lessons, as we aim to provide a safe space for issues and positions to be discussed and reflected upon, rather than taught.
The parents participated in a workshop on domestic violence against women and children with the Women's Resource Centre (WRC). The workshop gave mothers a safe and supportive environment to share their experiences and concerns. It also assured them that they are not alone, and that there is a system in place which will support and counsel them on how to address the problem of domestic violence. This will encourage more women to raise their voices against it.
Our social worker also conducted family assessments to be able to gauge the home environment of our students and suggest remedial measures if needed. This time spent also creates a strong bond between Anjali House and our families.
The main topics discussed were education, financial support, healthcare, job opportunities, and domestic violence, among other challenges. This year we also looked at abuse of the male child – a workshop organized by our social worker for the members of our staff and other partner NGOs to dispel myths surrounding this problem.
We also continue to focus on maintaining high standards of hygiene for our children. In addition to the bi-annual health checkups organized through the Angkor Hospital for Children, we regularly conduct awareness workshops for the children to improve their personal hygiene by reinforcing the benefits of washing their hands properly, showering, and brushing their teeth. Through parental support we ensure that these practices are followed at home too.
We are confident that these small measures will in the long run raise the standard of living for our children and their families.

17 families were counselled about child abuse and domestic violence.
4 workshops for parents were organised including topics such as good parenting, domestic violence, discipline, and basic hygiene.

5 workshops were organised by our social worker on topics such as violence against mothers and children, self-defence, and
misbehaviour.
meetings with the commune chief were held.
families were offered job opportunities through social work.
drop out students were offered vocational training.
1-day Child Protection Policy workshop was conducted with Anjali House staff and students.
1-day Child Protection Policy workshop was conducted with Anjali House staff and students.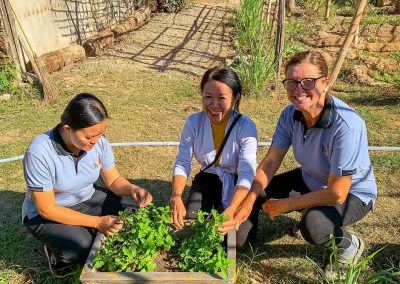 From a small beginning…  In 2014, Anjali outgrew its old space and moved to a new location to accommodate more ... Read more
Donate And Be Part Of The Change