You can help us transform lives of 120 children through education, health care and the arts!
There are many ways you can help Anjali House. One of them is by volunteering with us.
Every year, around 20 volunteers join us to work on projects or assist in teaching the children. Volunteers come from a lot of different places around the world, but they all end up in Cambodia because they believe in our mission and want to support our NGO's work. Some of them have written a volunteering testimonial.
Here is a video made by Marion, one of our long-term volunteers. It gives you an idea of what a day in the life of a volunteer at Anjali House looks like.
A volunteer experience at Anjali House is a great way to discover a new culture and contribute to creating a positive change. It will be a life-changing experience for both the volunteer and the children.
However, note that we do not support "voluntourism". Our primary mission is to protect the children. For this reason, we have adopted a strict Child Protection Policy. Plus, because of the close relation with children, we do not welcome volunteers for a short period of time. We privilege mid and long-term involvement in order to maximize the benefits for the children and the volunteer.
Our goal is to make our project sustainable. The volunteers that are of greatest value are people who have skills, ideas and experiences that they are willing to share and impart to the Khmer staff, so the ball keeps rolling after they depart.
If you have some time to give and are committed to help children grow into happy and healthy human beings, now is time to take a stand for your values. We would be glad to welcome you among our team as a volunteer. We also offer students the opportunity to gain experience in the humanitarian field by working on a project in line with their academic program, through an internship.
We are always in need of volunteers for these positions: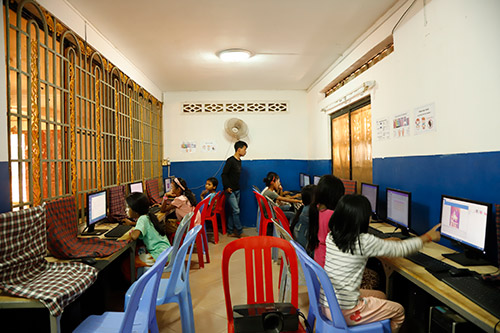 Classroom Volunteer
Assist our Khmer teachers during their lessons and conduct your own educational workshops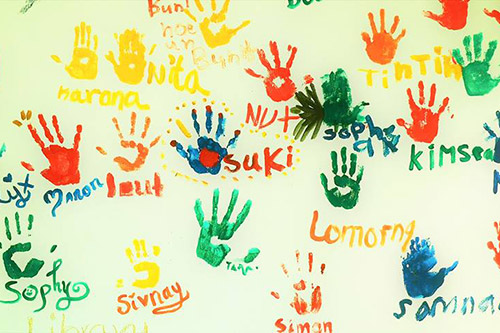 Communication & Fundraising Volunteer
Assist our Communication & Fundraising Manager and help us share the story of Anjali House on our different platforms.
We also encourage volunteers to suggest projects they would like to work on during their experience at Anjali House. If you have any ideas, we would be happy to discuss with you the most meaningful way to support us with a project of your own.
We are currently looking for volunteers to join our team and support us in these fields: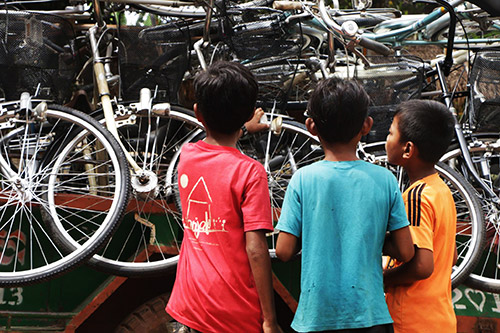 Social Worker
Support our Social Worker who look after the children and is in contact with the families and the public school.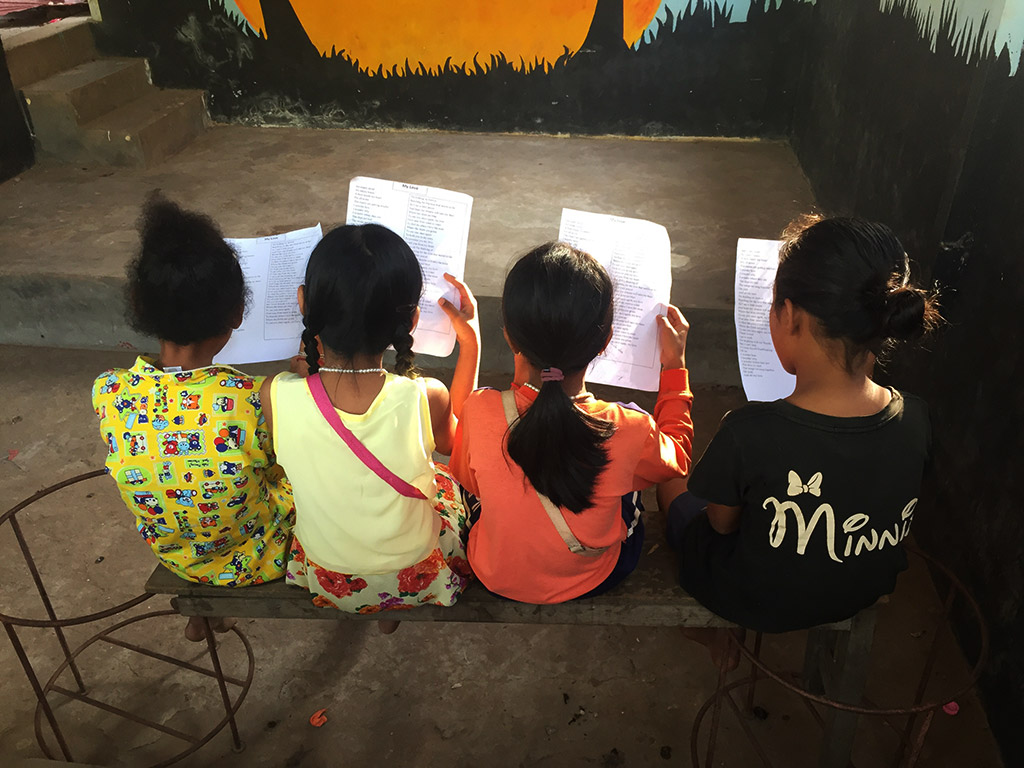 Database Management
Create a system to help our Social Worker to keep all information about the children and families.
Interested in volunteering at Anjali House?
If you wish to volunteer at Anjali House, please fill in this application form and send a CV and a cover letter to [email protected]
Once you have submitted your application, you will be contacted for an interview. Successful applicants will need to provide:
A scanned image of their passport
A police check from their country of residence
To abide by our strict Child Protection Policy
If you have further questions or enquiries regarding volunteering, please contact us via [email protected] or read our Volunteer handbook.
"We have a vibrant learning environment at Anjali House thanks to the volunteers from around the world who bring the best of their individual cultures and skills. For the students at Anjali House, many of whom have never travelled outside Siem Reap, this is a great way to get worldly wise." – Sue Guiney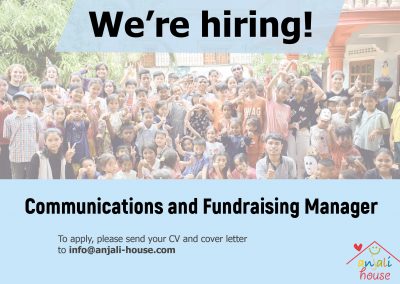 Anjali House Mission By providing experiential learning, supplementary skills training, and scholarships, we Read more