At Anjali House, children and young adults are registered at local public schools. We provide them with mandatory school uniforms and stationery. Our education program supplements public schooling focusing on teaching English to all our students. We also provide classes in Khmer, computer skills, general studies and creative workshops.
The Education Program consists of 4 classes: starter 1, starter 2, lower beginner and higher beginner.
The curriculum is based around teaching English, Khmer, and creative workshops conducted year round by our partners like Writing Through, Angkor Photo Festival and volunteers with specialist skills. All students at Anjali House also attend a local public school as a requirement for attending our centre. Considering attendance at government schools is
just half a day, our children are able to attend Anjali House before or after attending their respective schools.
We cover all costs for students to attend public school including paying for school uniforms, stationery, and general donations to the school per student.
Main Highlights of the Education Program
While we continue to support our children with their state board education in Khmer and English, we also lay equal emphasis on outdoor excursions, smart partnerships, and creative workshops to ensure a holistic development of the children. In 2018, our Head Teacher, BunThorng, organised a number of excursions to aid classroom teaching. The children visited the Development Innovations (DI) centre run by USAID to help civil society organisations, technology companies, social enterprises, and young innovators design and use information and communications technology (ICT) solutions and employ innovative processes to tackle Cambodia's development challenges. In addition, they also visited museums, libraries, and public\ spaces followed by various case study presentations and group discussions.
This year was also spent improving the teaching skills of the staff and upgrading the curriculum so that the children continue to access the best of education. With the new addition of Oli Tooher-Hancock, Head of School, International School of Hyderabad to the Board we hope to make our programs more dynamic.
As an official partner of the "English Access Microscholarship Program", sponsored by the US Embassy in Phnom Penh, we have received guidance on how to make the education program more holistic and practical.
The training was also imparted to young adults so they could conduct community classes, and as a result over 1,192 hours of free English classes were given to members of the communities Anjali House works with.
Our partnership with American Corner gave our children access to books and scholarships. We also aim to raise awareness of the plight of disadvantaged children through our partnership with Soulcial Trust. Their partner – the Krousar Thmey Foundation for Disadvantaged Children including blind and deaf students – is enabling them to treat the differently-abled as equals and with dignity. The students from Anjali House and Krousar Thmey often connect over music thanks to
the choir run by the Music Art School of Siem Reap.
With time we hope that these interventions nurture our children into well-rounded adults who are ready to fulfil every dream they have for themselves, their families, and the community at large.
Five students dropped out of anjali house of the 120 students enrolled in grades 1-12, better than the 5% annual drop out rate nationally for grades 1-12. (USAID)
Over 65 hours of community service offered by 120 students, including access program students.
13 new students enrolled in 2018
120 packages with stationery and other school supplies distributed.
Over 5088 Hours
of instruction given to 120 students by 4 teachers.

More than 1,000 notebooks distributed.
of our primary-aged students in 2018 had satisfactory attendance records at Anjali House and their local public school in comparison to the national primary school attendance rate of 84%. (UNICEF)
Over 1192 Hours
of free English classe(evening classes) given to members of the communities Anjali House works with

Over 2,000 hours of computer classes given to 120 students by 1 IT teacher.
of reinforcement of English language skills for 35 of the young adults through the "Access Program".
NONE
of our students under the age of 16 are working compared with 36% of Cambodian children aged 5-14. (UNICEF)
120 school uniforms distributed.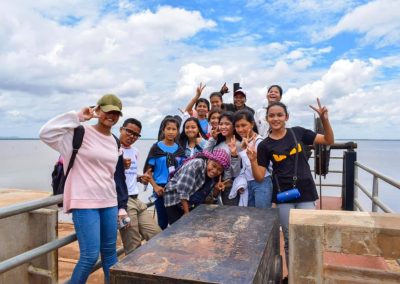 Our Future Leaders Program focuses on volunteering and internships in addition to skillbuilding. We encourage our ... Read more
Donate And Be Part Of The Change