All our students are taught about the importance of personal hygiene and take daily showers. We provide access to healthcare as well as two nutritious meals a day, a "privilege" they would not otherwise benefit from if they did not attend our center. We also assist our students' families with medical care providing assistance with emergency grants and loans.
Due to extreme poverty and the relatively high cost of medical care in Cambodia, many children do not receive adequate healthcare and consequently suffer from potentially life-threatening illnesses. A great number of children in Cambodia are malnourished and do not have access to clean drinking water. Anjali House is dedicated to improving and maintaining the physical health and development of its students by providing three services as part of the basic care program: access to nutritious food, personal hygiene, and health care.
Main Highlights of the Basic Care Program
The Basic Care program is led by our social worker, who oversees the distribution of hygiene products, ensures our students receive semi-annual check-ups at the Angkor Hospital for Children, including emergency care as needed, and monitors the nutritional content of our twice-daily meals.
Our efforts focus on constantly improving the quality of the food we provide to our children. Following on from 2017, this year again we increased the protein value in our meals and as a result the number of children falling sick has declined. Our garden continues to supplement the two meals served at Anjali House, all grown organically.
While our staff ensures that basic hygiene practices are followed, this year we increased the number of workshops to teach the children how hygiene is linked to their overall well-being.
During our annual health check-up with the Angkor Hospital for Children, the medical practitioners registered fewer illnesses than last year. This is a result of involvement of parents in reinforcing basic hygiene practices at home as well as increased consumption of nutritional food.
The Basic Care program also emphasized mental health through regular yoga sessions provided by our partners Rolok Fitness and Ashaha Foundation.
1440 times
students brushed their teeth, washed their hands, and showered.

1,440 toothbrushes and tubes of toothpaste distributed.


8 workshops on basic hygiene for students as well as for parents
hours of yoga sessions delivered.
bars of soap used and distributed.
workshops about nutritional health with 70 students.

1 health check up for 80 children with Angkor Hospital for Children.


more than 58,560 meals served for breakfast
and lunch.
Self-defense workshop with 13 students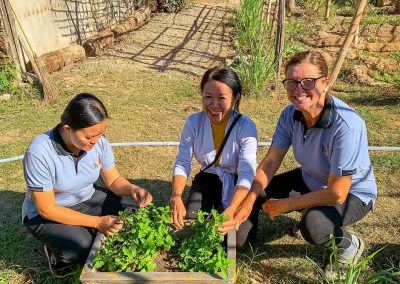 From a small beginning…  In 2014, Anjali outgrew its old space and moved to a new location to accommodate more ... Read more
Donate And Be Part Of The Change